Interior
Inside the 309
The interior of the Peugeot 309 has the advantage of far more space than its Peugeot 205 sister. Obviously, most of it is in the back. Driver and front seat passengers have a couple of inches more elbow between them, but no more legroom.
As in the Peugeot 205, head and legroom space is adequate, and average for the size of the car, but drivers of 6ft and over may encounter problems. Moreover, with the large panoramic sunroof fitted, the headroom becomes less generous than the opposition.
As soon as it was launched, car magazines complained about the very high boot sill, which could turn the loading of heavy objects into a back-straining exercise.
But in 1989, Peugeot launched the Peugeot 309 Phase 2, which benefited from an exterior facelift as well as a more modern interior design including all new interior colour schemes. The facelift consisted of a different grille, just like the 205 or the 405, and an all new rear design. The boot sill was lower and larger, the rear light clusters were inspired from the Peugeot 405 and the hatch was modified.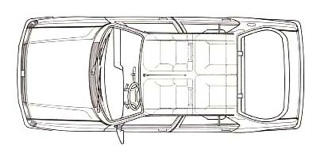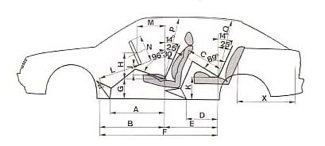 Trims
At the wheel
Contrary to what French car magazines thought about the Peugeot 309 dashboard, their British counterparts didn't complain about its bad plastic construction. Actually, the dash was said to be more neatly styled than the one of the 205. The dash had the advantage to sweep around the centre console, rather than ending abruptly beside the wheel.
Stepping into the Peugeot 309, you could quickly complain of banging your knees on the rim if you're quite tall. Actually, the wheel does not adjust for reach or rake and even if it gives a good grip, it can easily feel very hard, cold or plasticky on a chilly morning. The GTI wheel does not differ and has quite the same feel.
When the 309 Mark 2 appeared, the all new dash was revealed. The global feel about it was better as Peugeot used darker plastics and trims in order to reinforce the impression of quality. The new dash shared a lot of parts with Peugeots and Citroëns, such as the interior switches. The ventilation controls were taken from the Peugeot 205 as well as the indicator and headlamp stalks.